Laminate Cabinets Replace Worn Out Casework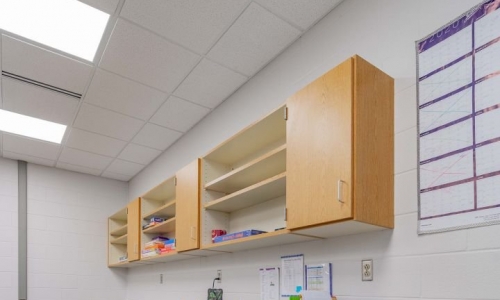 If your business needs quality laminate cabinets to replace your aging casework, Advanced Cabinet Systems provides quality, modern casework to renew your space. Advanced Cabinet Systems is a certified AWI casework manufacturer, meaning we can guaranteed provide you with the best quality cabinets where and when you need them. We use only the best materials and workmanship on every project that we take part in, which means you are sure to be satisfied when you work with us.
Constructed to your specifications
When you work with Advanced Cabinet Systems to revamp your casework, our team can construct your laminate cabinets to ensure that they are built exactly to your specifications. We use the industry standard doweling method for our cabinets, while constructing them in a setup that meets your needs. From start to finish, our team always makes sure that your plans are followed to give you the best possible space.
This commitment to excellence is why so many customers have depended on Advanced Cabinet Systems again and again for their casework. Laminate cabinet systems require a professional to know what the best materials and techniques in construction are, and you will always get these benefits when you work with ACS.
Cabinet constructers know it all
When you need laminate cabinets, you want to be sure that you can depend on the one supplying and installing them. Advanced Cabinet Systems has provided laminate cabinets for healthcare facilities, educational facilities, vet clinics, and more. With our team, you can find a better solution through our guidance and recommendations for your cabinets.
When you find your old cabinets aren't holding up anymore or you want to change the look of them because you are redoing the rest of the space as well, the team at ACS will help you find the next best option for your space. With different color and edge selections available for each product, our knowledgeable team can help you find a great replacement choice that is sure to satisfy and provide your space with the quality storage it needs.
By providing designs, engineering, manufacturing, delivery, and installation to our laminate cabinet customers, Advanced Cabinet Systems is the full-service casework provider that your team can always trust for new cabinets in your space. To learn more about our cabinets or any of the services that we provide for them, reach out and contact us today!