Add Functionality to your Practice's Space with Healthcare Casework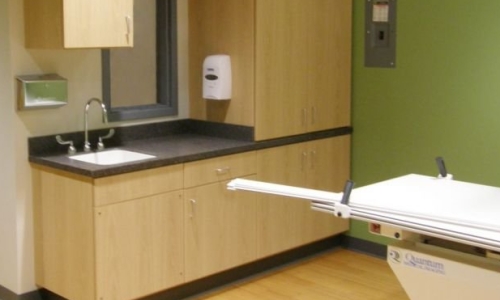 When furnishing a healthcare facility, you want to make certain that you are making use of casework that makes the most of your space. Able to manufacture and install casework that adds the functionality necessary for any healthcare environment, when you need to find functional, high-quality casework, you can trust Advanced Cabinet Systems to provide you with the casework that your space needs. Located in Marion Indiana, and serving businesses throughout the united states, Advanced Cabinet Systems is dedicated to providing the most well engineered plastic laminate furniture in the Nation.
Casework Solutions for Every Part of Your Healthcare Space
Making the most of your healthcare space is important, and with years of experience in working with healthcare professionals, we at Advanced Cabinet Systems understand the organization needs of the healthcare industry. Able to produce casework for every part of your medical practice, from reception desks to exam room cabinets, we can provide your space with the casework that provides functional filing, equipment storage, and cabinetry for your clinic.
Casework Designed to Fit Your Practice's Space Perfectly
When you work with Advanced Cabinet Systems, you are working with a manufacturer of casework that understands that there is no universal solution to your healthcare spaces needs. Every doctors' office, exam room, or reception area have their own space requirements, meaning that your healthcare space will need a unique solution that matches its shape and look. Able to design, manufacture, and install casework specifically made for your space, the team at Advanced Cabinet Systems will work to find the casework solutions that will add functionality where needed, while matching your spaces atmosphere.
Working to ensure your facility is furnished with the healthcare casework it needs to make the most of its space, the team at Advanced Cabinet Systems is ready to offer their design, manufacturing, and installation services to your practice. Helping provide quality casework for a number of clinics throughout the united states, Advanced Cabinet Systems is ready to create the casework to finish your professional healthcare space. request a quote today to find the casework that fits your space or contact us to learn more about the casework and custom millwork that Advanced Cabinet Systems can provide to your space.