Add Functionality to Your Spaces With Plastic Laminate Casework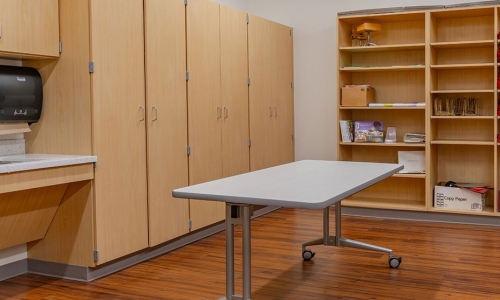 When furnishing a space, it's important to consider the functionality that casework can provide. Many spaces can benefit from the installation of custom casework. From educational settings like classrooms, music rooms, and science labs, healthcare spaces like hospitals and veterinary clinics, and in work environments like offices and retail, plastic laminate casework can help provide storage, accessibility, and even aesthetics to any space.
One of the largest manufacturers of plastic laminate casework in the United States, We are ready to help manufacture and install the casework that will perfectly fit your space. If you are looking to furnish your space, here's why you should consider plastic laminate casework from Advanced Cabinet Systems.
Casework Made From Durable Materials From Trusted Manufacturers
Made from high quality materials, the cabinets from Advanced Cabinet Systems offer functional and durable plastic laminate casework that will last for years. Using premium grade materials and laminates from trusted suppliers like Formica, Wilsonart, and Pionite, and using industry standard doweling to further add to the stability to our casework, we work to provide stable, and durable high-quality casework. Using only the best materials for their laminate casework, you can count on Advanced Cabinet Systems to fill your space with cabinetry, desks, and other casework installations that last.
Manufacturing and Installing the Best Casework for Your Space
When you choose the casework from Advanced Cabinet Systems for your space, you can count on us to deliver high quality casework that makes the most out of your space. With over fifty years of combined engineering experience, the team at Advanced Cabinet Systems has the skills to manufacture casework that can fit rooms, hallways, and offices of any shape and size. We are ready to manufacture, deliver, and install the cabinets, shelves, desks, countertops, and other casework to provide added functionality to classrooms, doctor's offices, offices, storefronts, and more.
Offering premium plastic laminate casework made from quality materials that perfectly fits your space, Advanced Cabinet Systems is ready to help you furnish your educational, medical, commercial, and even office spaces. Locate a dealer to get the casework to add functionality to your space or contact us today to learn more about the plastic laminate casework offered by Advanced Cabinet Systems.