Five Ways Professional Commercial Casework Improves Spaces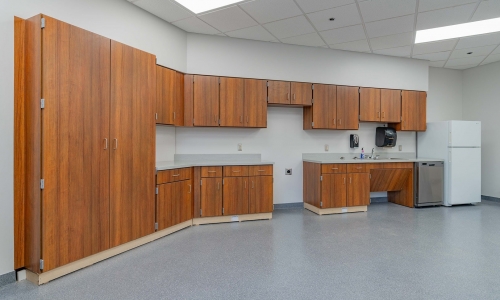 Whenever commercial casework is being considered for a professional setting, there are a variety of reason that you should take the leap and invest in it. Advanced Cabinet Systems has over 50 years of combined engineering experience that can bring all the benefits of commercial casework to your spaces.
1. Commercial casework is versatile
Because commercial casework provides extra space that a variety of spaces can utilize, it is versatile, giving perfect storage wherever needed. We have provided quality casework for educational institutions, locations involved in the arts, and healthcare facilities. From the classroom to a doctor's office, casework is a universal benefit.
2. Our casework is built to last
As a Certified AWI Casework Manufacturer, Advanced Cabinet Systems provides commercial casework that uses some of the highest level of quality for material in crafting it. So, your casework is built to last for years and stand up to the use that you will regularly be putting it through.
3. Casework layouts are designed to your needs
Casework can already be of benefit to business owners to help complete spaces, but you also get quality layouts when you work with Advanced Cabinet Systems. With the experience that we have in crafting casework for a variety of spaces, we have the know-how to create designs for casework layouts that will best benefit your space.
4. No space is too big or small
When Advanced Cabinet Systems assists you with commercial casework, we can provide services for any space, big or small. From a front office that needs to be rearranged to an entire office building, our team can provide commercial casework that is designed best for each individual room, while also being capable of providing a great sense of overall functionality for a whole building.
5. Find casework to match your tastes
Advanced Cabinet Systems' commercial casework comes from a variety of manufacturers that have options for colors and materials that you can choose from. Whether you want a more modern look or a classic, calming environment for your office, you can find what you are looking for with ACS.
Professionally designed and created for every space, the commercial casework from Advanced Cabinet Systems is your number one choice for quality casework. To learn more about what our casework can do for your spaces, reach out on our contact page today!