How Does Healthcare Casework Add Value to Spaces?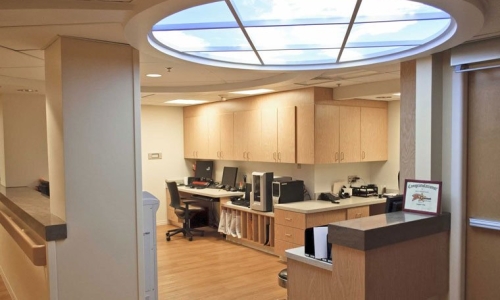 When considering what to fill your healthcare facility construction with, healthcare casework is the best choice for any space that wants the best added value. Healthcare has a lot of equipment and tools that are used on a daily basis that need somewhere to be stored, and healthcare casework crafted from professional casework contractors is the best for the job.
Advanced Cabinet Systems has worked with healthcare construction crews to provide layout plans, quality casework installation, and maintenance of casework systems when needed. Whatever your healthcare facility's interior needs for casework, we've got the solutions to best help you.
Fill every part of offices
From the front office to back storage rooms, casework storage space is a necessary element of healthcare facilities. Not only offering convenience for getting tools or equipment, but also allowing for an easier way to reduce contamination by keeping certain objects isolated, casework serves a variety of purposes when used in healthcare.
As the premier provider of professional casework, Advanced Cabinet Systems helps to fill all parts of offices with quality casework that can't be beat. We work with customer to ensure the healthcare cabinets and desks receive have the appropriate setup for storage and use.
Everything done to make spaces great
When adding value to a space through casework, the provider you work with should offer all the necessary services to make the construction simple. Casework plans are a benefit to bringing a space together, but they only work to serve you when there is a team that can bring them to your space. From initial designs to the installation of your casework, the team you choose should help you through each part of the casework process.
With the team at Advanced Cabinet Systems, your facility gets everything that it needs for casework, as well as the services to make it an easy process. We offer services for design, engineering, manufacturing, delivery, and installation of healthcare casework. As a certified AWI premium casework manufacturer, we create the best casework for your space, then go through the process of ensuring it gets to your space and is set up perfectly.
Offering the levels of quality control and some of the best materials on the market, Advanced Cabinet Systems has everything to help healthcare customers get the casework that best serves their space. Contact us today to get started on your healthcare casework!