Modernize School Labs with Commercial Cabinets and Countertops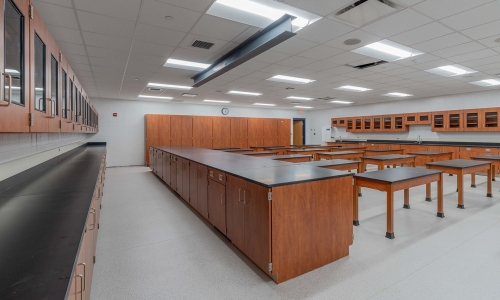 With kids heading back to the classroom, we at Advanced Cabinet Systems have had school commercial cabinets and countertops on the mind. Capable of providing school spaces with the best laminate casework, countertops, and more, ACS makes sure that each year your students come back for another year of their education, that they are being given the best resources necessary to succeed. School labs are just one more area that needs to be updated as they age, and ACS has the proper materials and expertise to bring them into a modern era.
Storage for measuring tools
Lab work in school often means needing the proper equipment to take measurements, collect data, and discover information regarding whatever experiment is being done. Advanced Cabinet Systems can provide commercial cabinets that not only look great within a classroom, but provide a durable, convenient way to store everything that lab students need to complete their work. Because our team has worked in a variety of school settings before, we know what it takes to fit commercial cabinets to a space, and we will work with you to ensure that the plans we come up with match what you are looking for with the space.
Top your commercial cabinets
At Advanced Cabinet Systems, we know what lab spaces for schools need from our years of experience working with them. So, we provide countertops for the top of your commercial cabinets to make sure that even if students are working with any acidic or basic compounds, that your countertops can withstand the chemicals. We also provide countertops that are made from materials that will inevitably face wear and tear over the years from equipment being moved on and off of them. Through quality materials and professional installation, ACS provides any educational space with the casework it needs to create a successful learning environment.
Advanced Cabinet Systems is the family-owned and operated business that provides anyone in need of quality casework with the materials and services that will best benefit them. With attention to detail, quality materials, and customer service that can't be beat, you can trust in us to give you the best casework experience available. If your school lab is in need of a modernized space, trust in ACS to provide the commercial cabinets, countertops, and more to make the space perfect for your students to learn.