Update Your Classroom with Casework for Educational Spaces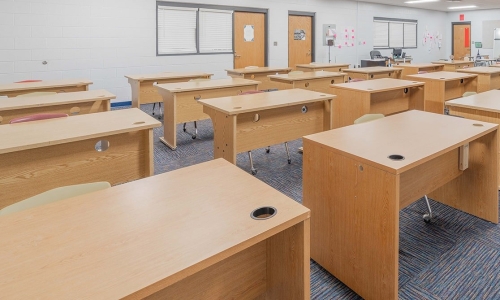 As the school year starts to wind down, it's important to consider if it's time to give your educational facilities an update. Desks, tables, cabinets, and other classroom components could be showing their age by the time summer arrives. Advanced Cabinet systems can provide you with everything that you need to keep your classroom up to date, with storage spaces for the resources your students need to succeed, and more.
Give Your Students a Fresh Learning Environment
Classrooms see a lot of usage throughout the school year, and it often starts to show as the years pass. Over time one or more components could become inadequate for use in a school setting. Advanced Cabinet Systems has supplied dozens of educational facilities with commercial casework for the classroom, and has up to date and durable designs for cabinets and desks. Our high-quality plastic laminate casework will help make your classroom more organized by ensuring that it has the cabinets, tables, chairs, desks and everything else it needs to provide the best teaching environment possible.
Casework for More Unique Rooms
Advanced Cabinet Systems has designs for all parts of an educational facility. School music programs provide an enriching experience for students, and making sure your schools music instrument storage is secure is an important part of ensuring that programs success. Advanced Cabinet Systems' Instrument storage designs will craft the best music storage cabinets for already existing spaces, so no matter if it's in a hallway or a storage closet, your school instruments will be protected.
Science labs are a unique environment in every school. Normal desks and tables aren't suitable where the chemical or biological sciences are involved. Lab tables and cabinets need a suitable countertop, which Advanced Cabinet systems can also provide. Combined with our laminate cabinets, your school lab will have both the surfaces it needs to provide a safe education in the sciences, and the storage it needs for measuring instruments and other lab equipment.
Advanced Cabinet Systems offers great options when it comes to casework for educational environments. Whether you're looking to give your school the update it needs over the summer, or if you're just looking to reorganize classroom storage, Advanced Cabinet Systems offers some of the best laminate cabinets and casework. Contact us today to learn more about all the casework products ACS has to offer.