Vet Clinic Cabinets Keep Tools and Equipment On Hand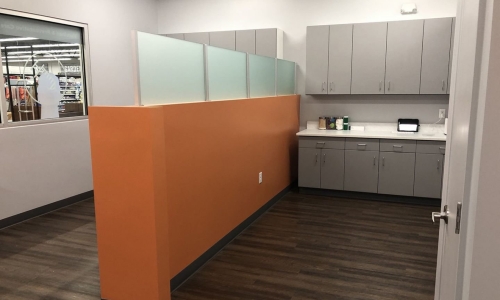 With the casework that Advanced Cabinet Systems provides, vet clinic cabinets can be designed and installed for any clinic looking to improve their cabinet setup. By improving your cabinet design and setup, you can give each clinic room the space to hold all the tools and equipment that you use in daily operations.
This can help save time by having everything readily available for workers, rather than them needing to leave to a supply area to get the things that they might need. Our team has worked with different clinics to provide the casework they needed, so you know you can count on us to assist with yours.
Casework from front to back
Whether it is casework that needs to be installed at your front desk or for additional storage in your backroom area, the vet clinic cabinets from Advanced Cabinet Systems are designed and installed to your specifications. We can provide cabinet setups of all varieties, so your space's unique layout and your preferred setup are never an issue.
Our team of professionals can help you to design the best setup to utilize your space effectively, giving workers enough space to perform duties while also giving them ample storage for anything that they might need while on the job.
A full-service casework experience
When your office needs vet clinic cabinets, Advanced Cabinet Systems is the best choice because we provide a full-service casework experience to help you keep tools and equipment on hand. From start to finish, our team is here to help you get the perfect casework cabinets for your needs. To ensure this, our services include design, engineering, manufacturing, delivery, and installation of your casework. From start to finish, we'll work with you every step of the way, so your casework turns out perfect.
Quality products and a great customer experience are always at the forefront of what ACS does, and our complete vet clinic cabinet experience will give you both to help complete your space, the way you intend it to turn out.
As one of the top manufacturers of casework in our field, you know you can count on our team to make your space truly shine. Contact us today to learn more about what we can offer and set up a meeting to learn how your vet clinic cabinet space might be improved with a team of professionals!