What is Commercial Casework and How Does it Help Businesses?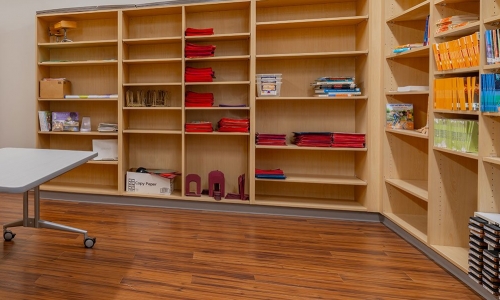 If you are a new business that needs to furnish your space, commercial casework from Advanced Cabinet Systems can help you find the best solutions to your needs. If it is your first business space, you may be wondering what commercial casework is and how it helps your business. The professionals at ACS can walk you through casework solutions that we can provide to your space, while also explaining its benefits.
We pride ourselves in being able to find the best answers to our clients' needs. With ACS, your commercial casework experience will be unmatched.
What commercial casework is
If you have never worked with a commercial casework provider before, then you may be unsure as to what it even is! Commercial casework involves the construction of storage-type fixtures, such as cabinets, enclosed or open shelving, bookshelves, countertops with storage underneath, and more. We have provided these types of fixtures for medical facilities, educational facilities, offices, and more.
The commercial casework that Advanced Cabinet Systems provides can be used in any setting that requires more space to store things. Our team is experienced in providing commercial casework solutions to any business that could use a better way of storing whatever they need.
How it helps businesses
Commercial casework from Advanced Cabinet Systems helps businesses because we are always looking for the best solutions for our customers' needs. Rather than providing a generic template of casework for the projects that we work on, each gets the personalized solution depending on their specific needs. By working closely with our customers, we learn exactly what their casework needs to work best for them and then work on a solution to meet those needs.
With an exceptional time on delivery and a dedicated team that is focused on each project as it comes in, you always get unmatched commercial casework services with ACS. Whether you are a school, medical office, legal firm, or any other business in need of casework, our team can help you to find the best solution for your business.
Providing design, engineering, manufacturing, delivery, and installation for all commercial casework projects, Advanced Cabinet Systems works with you through understanding what casework is and how it can help your business. Reach out to our team today to learn more about the commercial casework that we provide to businesses and how it could help yours!