What Spaces can benefit from Modular Casework?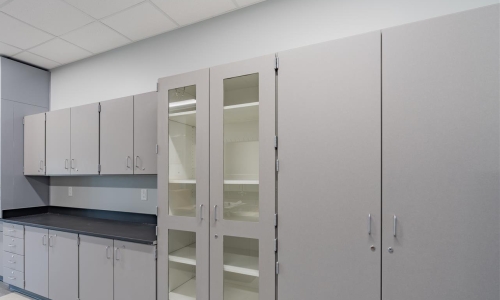 If you're looking to update our existing facilities, or trying to furnish a new building, it's important to consider what kind of storage would work best for your space. As every Service and industry is different, there is truly no one size fits all solution when it comes to finding the right solutions for your facility. Because every space is shaped differently, Advanced Cabinet Systems is ready to help by providing customers with its services in designing and installing modular casework. We supply casework to a wide variety of customers from healthcare to educational services, our team of interior designers and engineers are ready to design and produce the modular casework that best fits your space. One of the larges plastic laminate casework manufacturers in the United States, Advanced Cabinet Systems has supplied its modular laminate casework to a variety of commercial, educational, and healthcare facilities.
Casework Solutions that Fit Your Practice
Healthcare spaces of all varieties can benefit from the storage that our modular casework provides. Modular casework and laminate cabinets from Advanced Cabinet Systems help to provide storage for your practice. Whether its examination room cabinets, medical office casework, dental cabinetry, or even veterinary cabinets, Advanced cabinet Systems can provide the laminate casework that best fits your healthcare environment's needs.
Furnishings for Every Part of an Educational Environment
Educational spaces can all benefit from the storage that modular casework from ACS provides. ACS has supplied a number of classrooms, music rooms, and school offices with storage cabinets, musical instrument storage, and science lab casework, and is ready to help find custom solutions for your educational space's storage requirements.
Commercial Casework to Complete Your Office Space
Offices can also benefit from the added storage space and desk space that modular casework can provide. Because our laminate casework can be crafted to fit any space, our designers can help you design the perfect furnishings that will help make your office a productive environment. Whether your business is new or old, Advanced cabinet Systems can provide your workspace with up-to-date designs and functional office furnishings.
Advanced Cabinet Systems is ready to supply the modular casework that best fits your spaces. Contact us to learn more about our modular laminate casework and cabinetry or request a quote today!