Why Laminate Casework is a Great Choice for Any Space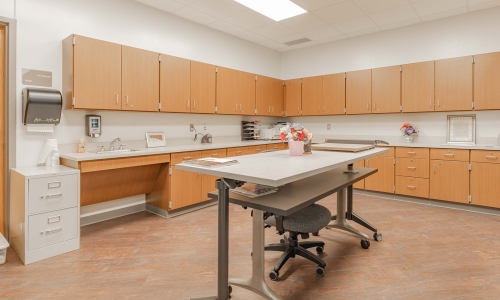 When your space needs storage, counterspace, shelving, and more, laminate casework is the best choice, no matter what kind of space is being constructed. From classrooms to clinics, there are several spaces that benefit from quality casework, and laminate provides a variety of benefits that make it the best choice for the job.
As one of the largest plastic laminate casework manufacturers in the country, Advanced Cabinet Systems provides businesses within the U.S. with unbeatable products that are perfect for their spaces. Through excellence of materials and customer service that works to meet all your needs, our team will help your space become fully realized.
The benefits of laminate
Businesses choose laminate casework for their spaces because its appearance can be made to look exactly like regular wood, giving it a great appearance no matter where it's used. It also can be built in a variety of styles, from contemporary finishes to a more traditional look. Despite it not being made from wood, laminate cupboards are still hardy, holding up to daily use for years and years. And, as an advantage over wooden casework, laminate casework doesn't need to be polished or oiled like wood does.
Advanced Cabinet Systems utilizes laminate because of these reasons, as they help us to provide our customers with casework that not only gives them all the capabilities that their rooms require but also gives them great looking casework that will stand the test of time.
Create the perfect layout
When working with a plastic laminate casework provider, not only is it a great decision to choose laminate casework as your material, but the provider should also have the capability to create the perfect design for your space. Although standard constructed cabinets will still get the job done, a crafted system of cabinets ensure the space gets exactly what it needs for your applications.
The team at Advanced Cabinet Systems are Certified AWI Premium Casework Manufacturers, meaning we craft only the best casework for any project. This goes for the laminate materials that we use, the craftsmanship of the project, and the installation job that we perform, making us one of your best available choices for laminate casework.
From the benefits that it offers to spaces to the professional services that Advanced Cabinet Systems provides, we hope that businesses see why laminate casework is a great choice for their space and the applications they have for it. If you want to get started on a project that requires laminate casework, contact our team today!