Workplaces Gain the Space They Need with Quality Laminate Cabinets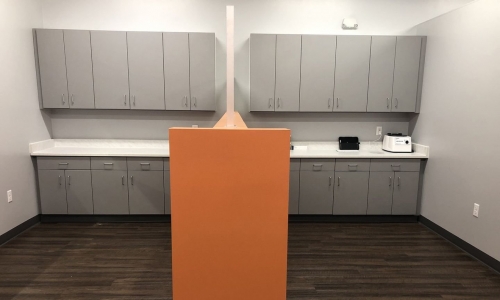 For most spaces, laminate cabinets are an addition that can not only fill out empty space for a room but add extra storage that may be more than necessary. Advanced Cabinet Systems has years of experience providing quality cabinets to different settings, always meeting customer expectations. If your space needs extra storage space that can best be fitted in through cabinet systems, you can count on ACS.
Work with the best
When you work with a provider of cabinets, you want to be sure you are working with some of the best, and that is exactly what you get with Advanced Cabinet Systems. We are a Certified AWI Premium Casework Manufacturer, an award given only to those with the highest level of quality control for materials, workmanship, and installation. This makes ACS ones of the best manufacturers of cabinets in our field and can help you feel confident that when you bring us onto your project, you will be getting some of the best work available.
Recognized materials for laminate cabinets
We at Advanced Cabinet Systems always strive to make high-quality laminate cabinets, and our premium grade materials are one way that we achieve this. From recognized brands such as Wilsonart and Formica, our customers know that when they entrust laminate cabinet projects to ACS, they are putting their projects in the hands of professionals using only the best materials. The durability that each brand provides will give any project the high-quality cabinets it needs that will last for years to come. From the classroom to a laboratory or doctor's office, there are plenty of spaces that can best benefit from laminate cabinets provided by ACS.
From designing cabinet layouts to manufacturing and installation, Advanced Cabinet Systems provides the overall laminate cabinet services that your business can depend on. Contact us today to learn more about our cabinets and what we can do for your space.